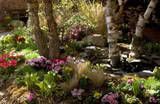 Well its only about 34 outside, but the sun is out so it fools us to thinking it is warm. Kevin and I have the whole day off together, tomorrow is his b-day, and my Ostara Circle with the Sacred Birch Society.
So I'm not sure whats entailed for today, since I don't have the luxury of privacy today, so I think for now I'll just take a walk through the woods and read some of my witchy books....
What are you all doing today?
Amistis