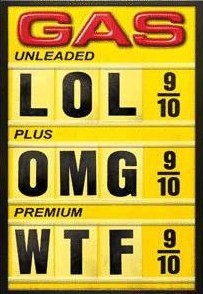 glitter-graphics.com
Ok so you know how to pump gas right?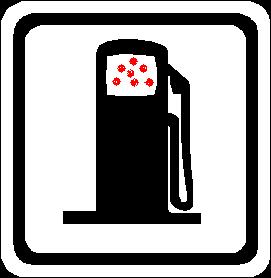 glitter-graphics.com
Pull up to the pump so its on the correct ride with your gas tank thingy
(She pulls up to the pump so its on the left.)
Then you get out and press pay inside or outside with credit card
(She presses pay inside, no prepay required, woot!)
Then you gotta wait for the person inside to hit a button.
(Please wait.....finally they hit the button)
It flashes 'remove nozzel'(She opens the gas tank door and plug thing and puts in the gas nozzle)Gas starts to flow
(She locks it into place by squeezing it til that metal thing hold it so she can check out much money she has).................................................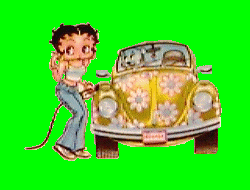 glitter-graphics.com
at this point your expecting:
Nozzle shuts off, replace it in holder, go inside and pay for the shizzle, go on your merry way
right???WWWWRRROOOONNNGGGGG-----OOOOO

That mother effer never clicked off when it got full, it just kept on going until it was gushing out all over the place, down the side of my car like a gasoline waterfall down my pants all over my foot just spewing away.

Finally I get the bastard to unlock and I hang up the nozzle. Recap the tank and shut the little door, get my money out and go inside to pay the lady.
I told her
"somethings not right with that nozzle for the pump, it didnt shut off when it was full and just kept going and got all over the car and me and the ground etc"
and all she had to say was
,"yeah that happens sometimes when they get old, they dont work as good as they should..."
I'm so like WTF, i only had to pay a few extra gallons worth of gas that im wearing and spewing onto the ground, no biggie.
And then I had to come here (in school right now, between classes) so my whole first class noone would sit by me, noone wanted to be my partner for lab, my teacher didnt even want to give me back my quiz cuz he would be in range of the stench....lovely.

and I still have another class to go to, yippie skippie.Well I hope it goes away when i change clothes for work, and that I dont get blown up by a stray match or cigarette or something as super as that.
shit I'm shocked I didnt blow up from just starting my car at the gas station.

Lesson learned: Thats the last effin time I use that pump or the stupid self release shit.
PEEEEYOOOOOOUUUUUEEEEEYYYYY